Image

Over 20 Years Providing Local Lawn Care
Service From Your Neighbors
Fast and Friendly Treatments
Eco-Friendly Lawn Care Near Me
A beautiful lawn is the pride and joy of homeowners, but for most, the time and hard work spent on keeping lawns lush and beautiful isn't worth it. Agronomic Lawn Management will help achieve the healthy, thriving lawn you've been dreaming of so you don't have to lift a finger.
While we're happy to provide exceptional lawn care to our valued customers, we grow, we don't mow!
About this Service
Lawn care is no easy feat during the cooler months. Your grass is struggling to fight the cold, the frost, and the risk of disease. That's why our team of expert lawn care professionals is here to help! Since we live in a transition zone with both warm and cool-season grasses it can be difficult to know the best way to care for your lawn.
Here at ALM, we're committed to our community. That's why we are voluntary participants in the VA Department of Conservation and Recreation's Green and Clean Initiative. This initiative allows us to help protect the environment and help meet water quality standards. As part of this initiative, we require all of our customers to have a soil test completed before starting our lawn care treatments.
Contact us today to get started!
Year-Round Treatment for the Best Results
Over the past 20+ years, ALM has developed a plan to ensure the best year-round results. We offer a variety of lawn care programs, consisting of 6 to 14 applications throughout the year. Our programs include:
Pre-emergent weed control to prevent unsightly weeds from growing in your yard.
Post-emergent weed control, should weeds get into your yard.
Granular fertilizers that nourish and grow your lawn.
Lime to promote soil health and maintain pH levels.
Fungicides to prevent turf diseases.
Service Within 48 Hours & Free Retreatments
We know that your time is important to you, which is why we do everything possible to have a knowledgeable and licensed technician at your home within 48 hours of your initial phone call. We also offer free re-treatments if you're not happy with your results! 
A Custom Lawn Program That Fits Your Needs
We live in a "transition zone", which means there's no one perfect grass. Warm-season grass like Bermuda, St. Augustine, and Zoysia look best in late spring and summer and thrive under warm conditions. Cool-season grass like Fescue looks the best in the spring, fall, and winter, but can struggle during the warm summer months. 
Here at ALM, we take the time to assess the current state of your lawn in order to recommend the best treatment, customized for your lawn management needs. Our lawn experts will work closely with you throughout the entire process to ensure you understand your specific growing environment as well as the proper expectations for your results.
Eco and Budget Friendly Grub Control Services
Whether they are feeding on your lawn's roots as grubs or eating your ornamental shrubs as adult beetles, grubs can cause a lot of damage to your outdoor spaces. Luckily, this damage usually doesn't occur until there is a significant concentration of grubs hiding under the surface of your lawn, so if you suspect grubs may be taking over your yard, the time to act is now. If you're ready to protect your yard from grubs and the damage they can cause, give ALM a call today!
Here at ALM, we prioritize taking eco-friendly lawn and pest control measures that work for you and the environment. For our grub control services, that means two things -  targeting larva when they are at their most vulnerable to avoid heavier treatments once they have matured, and making sure that grubs are the problem before we decide to treat for them. Not only are these choices good for the environment, but they are also good for your wallet, ridding your yard of grubs only when needed, and as quickly as possible, to save you from costly services down the road. When you choose ALM for your grub control services, you will receive:
A thorough lawn inspection performed by one of our lawn experts to assess the extent of your grub problem
Seasonally targeted treatments to eliminate eggs and larvae in the fall before they have a chance to mature 
Granular product applications that align with our participation in the Green & Clean Initiative
Call for a grub control quote today!
Get Rid of Weeds in Your Yard
One of the easiest ways to decrease the curb appeal of your home is with a yard full of unsightly weeds, making your lawn look unkempt and in desperate need of attention. Luckily, Agronomic Lawn Management is here to help. We offer weed control services to help eliminate existing weeds from your lawn, and prevent new weeds from taking hold, keeping your yard looking its best all year long!
Managing weeds can be one of the most frustrating yard maintenance tasks a homeowner can take on, often leaving you spending hours in the dirt pulling weeds that will just pop up again in a couple of days. If you are ready to take back your weekend, our lawn experts are here to help! Our quality weed control services include:
A pre-service soil test to assess the health of your lawn.
Seasonally targeted applications to keep your lawn weed-free all year long.
Post-emergent weed control to eliminate the weeds already littering your yard.
Pre-emergent weed control to tackle future weeds before they have a chance to sprout.
Claim Your Free Weed Control Quote
We Provide Soil Testing
We require soil testing at the start of your service because testing your soil for proper pH is vital to the long-term health of your grass. The ideal pH for managing turf is 6.2-6.5. There is some tolerance outside this range, but if the soil pH is too far out of balance the viability of turf will be greatly diminished. Keep in mind the pH scale is a log10 scale so differences in values are exponential. The soil amendments we offer to correct poor soil are additional to your normal program. Once we receive the results of the test, we will contact you with the findings. If additional treatments are needed, we will give you pricing and wait for your approval to take action.
Expert Service From Your Local Neighbors
Here at ALM, we pride ourselves on our knowledge in the lawn care industry. All of our technicians are licensed and certified by the state of Virginia to apply pesticides and fertilizers to your lawn. Our technicians participate in continuing education courses at Virginia Tech to ensure we are providing customers like you with the most knowledge and experience possible to help your lawn grow and thrive. As your neighbors in the local community, you can trust that you're in good hands when you choose ALM for your lawn care. We will help you choose and maintain a beautiful lawn that you can enjoy all year long. Our lawn care management services are available throughout many places. Check to see if we service near you! 
What's included in this service
Image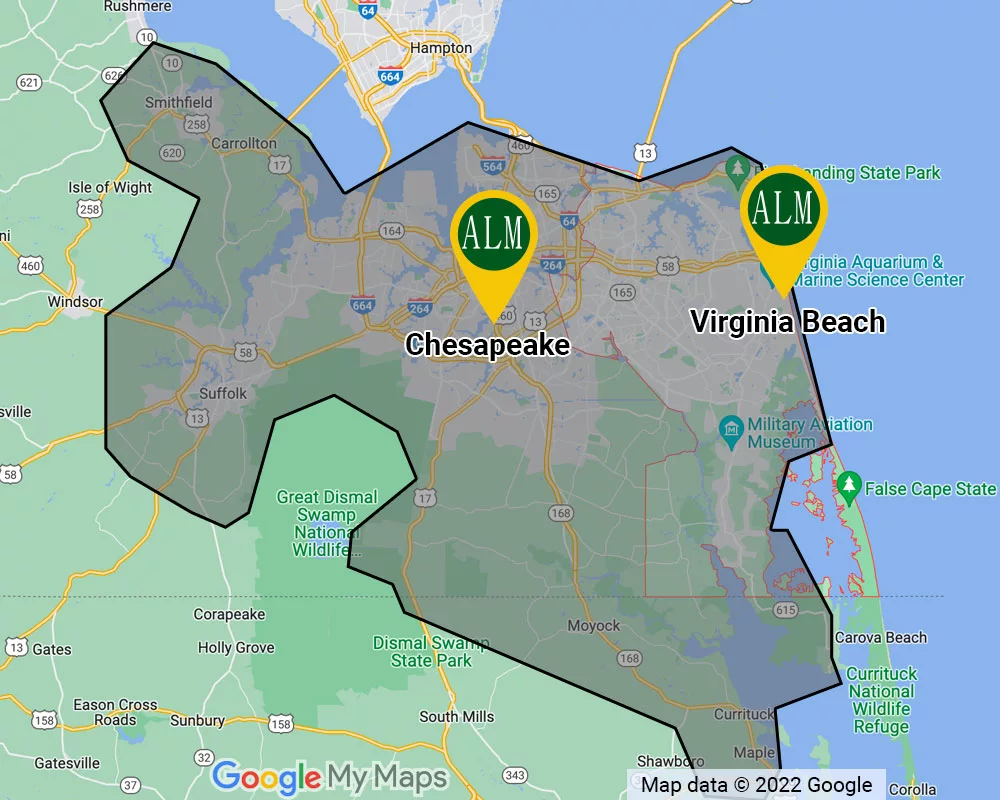 Local Lawn Care Experts
Areas We Service in Virginia
Agronomic Lawn Management has been proudly creating beautiful lawns since 1998.  We provide exceptional lawn care in Virginia in a manner that is effective and environmentally responsible. We are proud to provide our services to these areas: