What services are you interested in? Select all that apply.
Lawn Care in Suffolk, VA
Don't wait any longer for the landscape you'll be proud to show off! Our quality lawn care in Suffolk gives you the picture-picture lawn you imagined, without ever having to lift a finger.
Image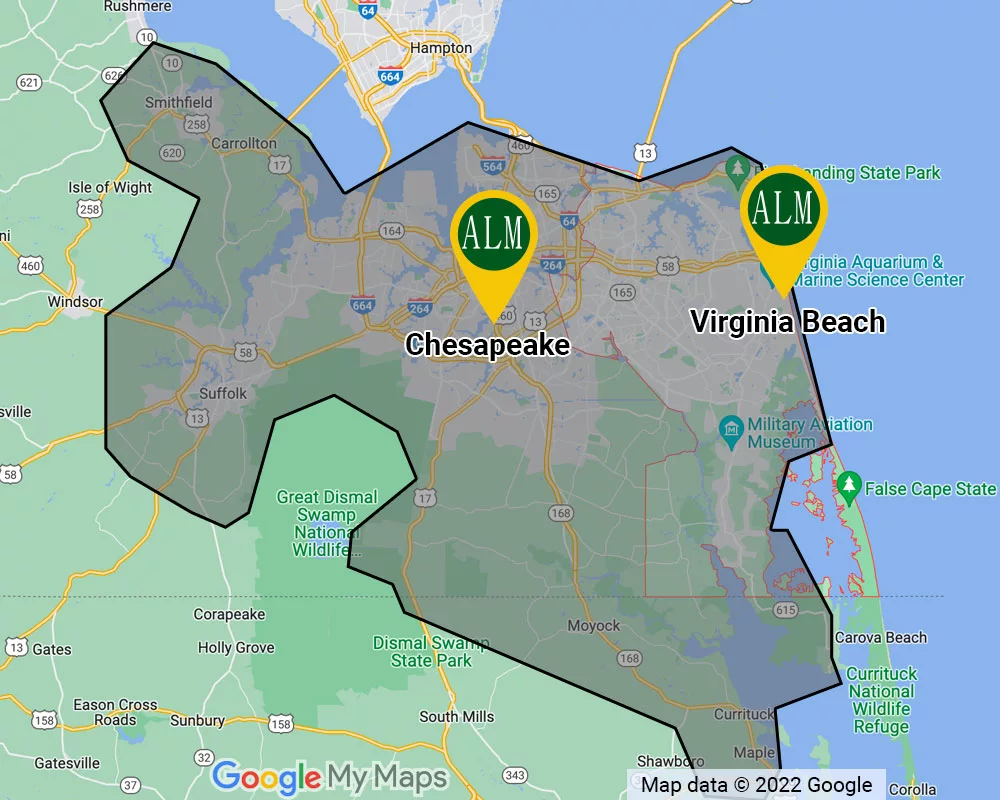 Lawn Services For Every Season
Don't risk low-quality lawn care in Suffolk, here at ALM we use the highest-quality treatments and the latest technology to give you the landscape of your dreams. Our programs consist of up to 14 yearly treatments, which we have found is the best way to ensure that your lawn looks gorgeous in every season. We've been an established lawn care company for over 20 years, so we know that there is no one-size-fits-all treatment. When you team up with us, you can rest assured knowing that your yard will be transformed into something beautiful.
Keep Your Lawn Looking Beautiful!
Expert Service Within 48 Hours
When your lawn isn't up to par, waiting around for service just isn't an option. You need a lawn care company that will get the job done quickly and efficiently, and here at Agronomic Lawn Management, that's what you'll get. One of our lawn care experts will be at your home within 48 hours of initial contact—there's no need to wait when you partner with us.
Weed Control in Suffolk, VA
When weeds take over your lawn, their presence can often make it look unkempt or unruly. Over time, they can suffocate your lawn and prevent it from getting the proper nutrients it needs to thrive. At Agronomic Lawn Management, we offer comprehensive weed control in Suffolk for a healthy, beautiful lawn. Our team will rid your lawn of any existing weeds and help prevent new ones from emerging.
Comprehensive Protection from Weeds
With 20 years of professional experience, we are guaranteed to provide you with the best weed control in Suffolk. Our lawn experts take reactive and preventative measures to rid your lawn of weeds for good. When you choose Agronomic Lawn Management, we guarantee the following:
A soil test to assess your lawn's health.
A custom lawn treatment plan tailored to your lawn and your individual needs.
Pre-emergent treatments to target weeds before they have the chance to develop. 
Post-emergent treatments to eliminate existing weeds.
Seasonally targeted applications to protect your lawn all year long.
Grub Control in Suffolk, VA
Grubs are the larvae of a variety of beetle species that may be infesting your lawn. They eat away at grassroots and organic soil matter, threatening your lawn's health and growth over time. By preventing your lawn from getting the proper nutrients it needs to thrive, grubs can quickly become a serious pest issue. At Agronomic Lawn Management, we offer grub control in Suffolk for a healthier, pest-free lawn.
Environmentally Friendly Products
With 20+ years in business, our team is sure to provide you with a service you can trust. We target larvae when they are most vulnerable to avoid the use of chemical-heavy treatments that are harmful to the environment. We are proud to offer the most affordable and quality grub control in Suffolk by using thorough, eco-friendly products.
Lawn Pest Control in Suffolk, VA
Mosquitoes, fleas, and ticks are a common nuisance, and they pose many health risks. As mosquito populations rise in your backyard, you and your family are more likely to acquire mosquito bites, and the risk of developing a disease is a potential outcome of being bit. Agronomic Lawn Management can put these pest populations at bay with our effective lawn pest control in Suffolk. 
Protect Your Loved Ones From Outdoor Pests
Our exterminators will show you exactly how to get rid of outdoor pests at the source. Agronomic Lawn Management offers professional lawn pest control in Suffolk from April through October. We'll ensure populations are at bay, so your family and pets can back to enjoying the outdoors without worry. Partner with us and you will receive: 
10 lawn pest control applications to get rid of pests fast.
Pet and family-friendly treatments handled by our trained exterminators.
Protection right at the source for the most effective treatments.
A chance to enjoy your yard worry-free by implementing our treatments and knowledge about ticks in your yard!
Disease Control in Suffolk, VA
Fungi and spores are a natural part of your lawn that are typically harmless. Under the right conditions, however, they can take over and cause lawn diseases such as dollar spot and summer patch disease. These can be difficult to diagnose unless you know exactly what to look for, which is why it's best to trust a professional lawn care company. Our disease control in Suffolk will determine what's ailing your yard, as well as enact a highly effective treatment plan.
The details of our lawn disease control depend on the type of grass you have, which is either:
Warm-season grass, which receives four strategically timed fungicide treatments split between the spring and fall, with additional summer applications optional.
Cool-season grass, which is carefully treated with fungicide five times in the summer.