What services are you interested in? Select all that apply.
Lawn Care in Virginia Beach
Is your yard giving the right first impression? If you're ready to stop struggling with lawn care in Virginia Beach, the experts at Agronomic Lawn Management are here to make your dreams come true! Give us a call and we'll be out within 48 hours to get started.
Image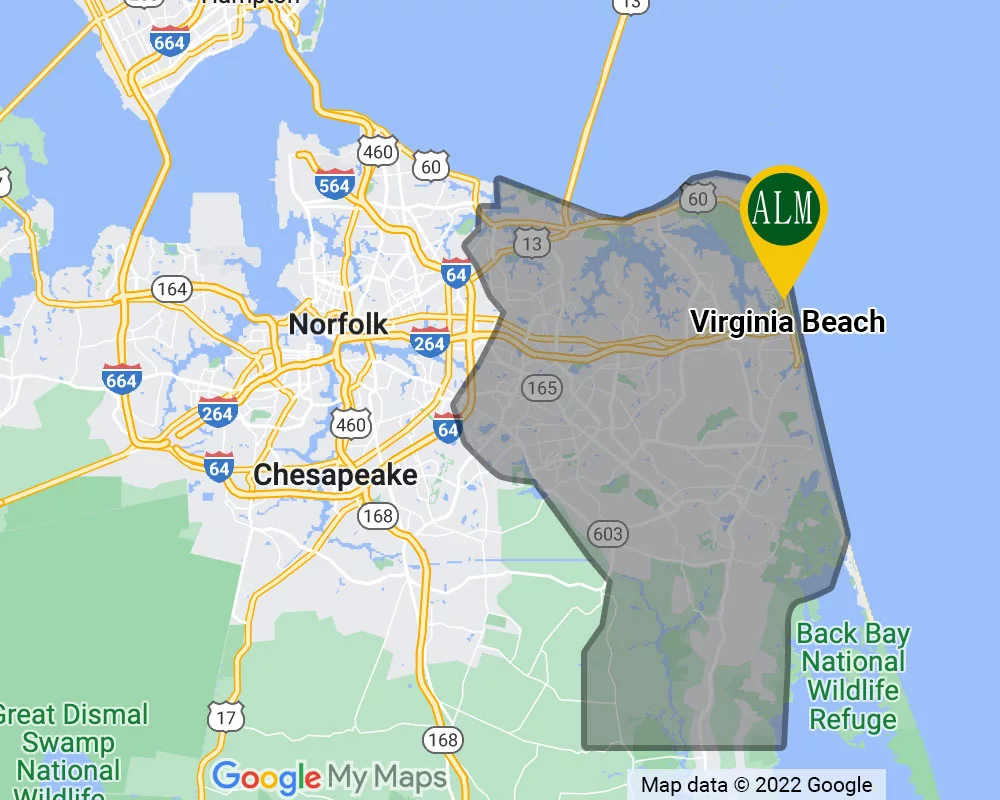 Lawn Care Technicians You Can Trust
At Agronomic Lawn Management, our number one priority is to provide you with expert service that restores the look of your yard. Our technicians provide the best lawn care in Virginia Beach with a friendly and helpful service that you can trust. We treat your yard just as if it were our own, which means our services are tailored to the needs of your landscape and your goals. We come to your home 7-14 times per year to provide you with a yard that you can be proud to show off, without having to lift a finger.
Our recurring lawn care in Virginia Beach includes:
Pre- and post-emergent weed control
Lawn fertilization
Lime applications
Disease and fungus control
And more!
Satisfactory Service Within 48 Hours—Guaranteed!
If waiting weeks, or even months, for quality lawn care isn't your style, you've come to the right place. We work hard to be on your yard within 48 hours of your call so you can get the service you deserve in a timely manner. You will love the results—we guarantee it. If you're unhappy with our service, we will re-treat your lawn free of cost!
Weed Control in Virginia Beach
If a lush, green grass is every homeowner's dream, then weeds are what nightmares are made of. Weeds are quick to invade even the most healthy of lawns and can be incredibly difficult to eliminate. They can also be incredibly damaging, capable of turning gorgeous turf into a scraggly-looking weed patch. With our highly effective weed control in Virginia Beach, your endless fight could be over in no time. 
Comprehensive Weed Control for Lasting Relief
Picking weeds by hand or trying countless store-bought treatments and DIYs is not only exhausting but ineffective. Let our team save you time and energy with our comprehensive weed control guaranteed to get you the lasting relief you deserve. Our weed control service includes the following:
A soil test: A certified technician will thoroughly examine your lawn and conduct a soil test to ensure we provide you the best treatment for your unique needs.
Pre-emergent weed control: We ensure long-term relief by treating weeds before they appear and preventing their return.  
Post-emergent weed control: With our highly effective post-emergent treatments, you can say goodbye to any existing weeds!
Grub Control in Virginia Beach
If you are struggling to keep your grass green and healthy, the culprit might be buried deep beneath your yard. Grubs can quickly make themselves at home in the soil of your yard and feed on your grassroots. This can cause the grass to thin as well as become brown, yellow, or spongey in texture. Luckily, with Agronomic Lawn Management's quality grub control, you can get the help you need before it's too late!
When you partner with us, we provide the following highly effective grub control services:
A thorough inspection of your lawn: One of our state-certified technicians will closely examine your lawn to identify any existing grub problems.
Year-round grub control protection: We provide seasonally targeted applications to ensure lasting relief. 
Granular activated products: Our grub control features granular activated products that are not only extremely effective but environmentally friendly. 
Perimeter Pest Control in Virginia Beach
Mosquitoes, fleas, and ticks can carry a variety of dangerous diseases, making their presence in your backyard more than just a nuisance. Luckily, keeping your family safe from these tiny pests is as simple as finding an exterminator you can trust. Our outdoor pest control is designed with you in mind, and is the perfect way to keep your backyard pest-free all summer long!
Seasonal Treatments for A Pest-Free Summer
With over 20 years of experience serving our neighbors in Virginia Beach, we know just how miserable the eastern Virginia mosquito, flea, and tick season can be. That's why we work so hard to make our perimeter pest control accessible for everyone, so no one has to spend their summer cooped up inside. If you are in search of eco-friendly, family-friendly, and affordable perimeter pest control, look no further!
Our services include:
10 seasonal applications between April and October.
Use of an eco and family-friendly fogging treatment to destroy pests in all stages of life.
A liveable, pest-free yard all summer long!
Disease Control in Virginia Beach
You've put countless hours of hard work into cultivating a gorgeous yard. Don't let all that effort be undone by lawn disease. Even the most well-maintained turf can fall victim to lawn fungus, which is not only unsightly but can damage the overall health and vitality of your yard. When you call up your local lawn care technicians at ALM, you'll get top-of-the-line treatments for lawn disease backed by over two decades of experience.
Reliable, Eco-Friendly Treatments for Grass Fungus
Keeping your turf healthy can be a challenge, but that's why our team of technicians is here. In addition to providing fast and effective treatments for dollar spot fungus and all other types of lawn disease, we are also proud to use the best eco-friendly products and methods to avoid impacting local wildlife and ecosystems. When you choose ALM to help with lawn disease, you'll get the following:
4 applications for warm-season grasses, 2 in the spring, 2 in the fall, and additional summer applications optional.

5 summer applications for cool-season grasses.