What services are you interested in? Select all that apply.
Lawn Care in Smithfield
Transforming your lawn from ordinary to extraordinary is easier than ever before with Agronomic Lawn Management! Our locally-owned and operated business has been providing top-notch lawn care services for over 20 years in Smithfield. Our family-friendly treatments and superior products will have your lawn looking lush and vibrant no matter what the climate throws our way.
Our lawn care services in Smithfield include:
Lawn Care: Our comprehensive service includes mowing, edging, trimming, and blowing, leaving your lawn looking neat and tidy.
Lawn Fertilization: Our specialized fertilization formulas give your lawn the essential nutrients it needs to grow healthy and strong.
Weed Control: We carefully select and apply our weed control products to remove those pesky weeds and prevent them from returning.
Split Seeding: Say goodbye to patchy and thin areas with our expert split seeding services.
Lawn Disease Control: Protect your lawn from harmful diseases with our effective disease control treatment.
Get Year-Round Lawn Care 
Are you tired of spending your weekends maintaining your lawn? Let our professional team at Agronomic Lawn Management take care of it for you, so you can enjoy your time outside. We offer the best lawn care services in Smithfield, Virginia, and our knowledgeable staff will ensure that your property remains lush and green all year round. Contact us today to experience the Agronomic Lawn Management difference.
Image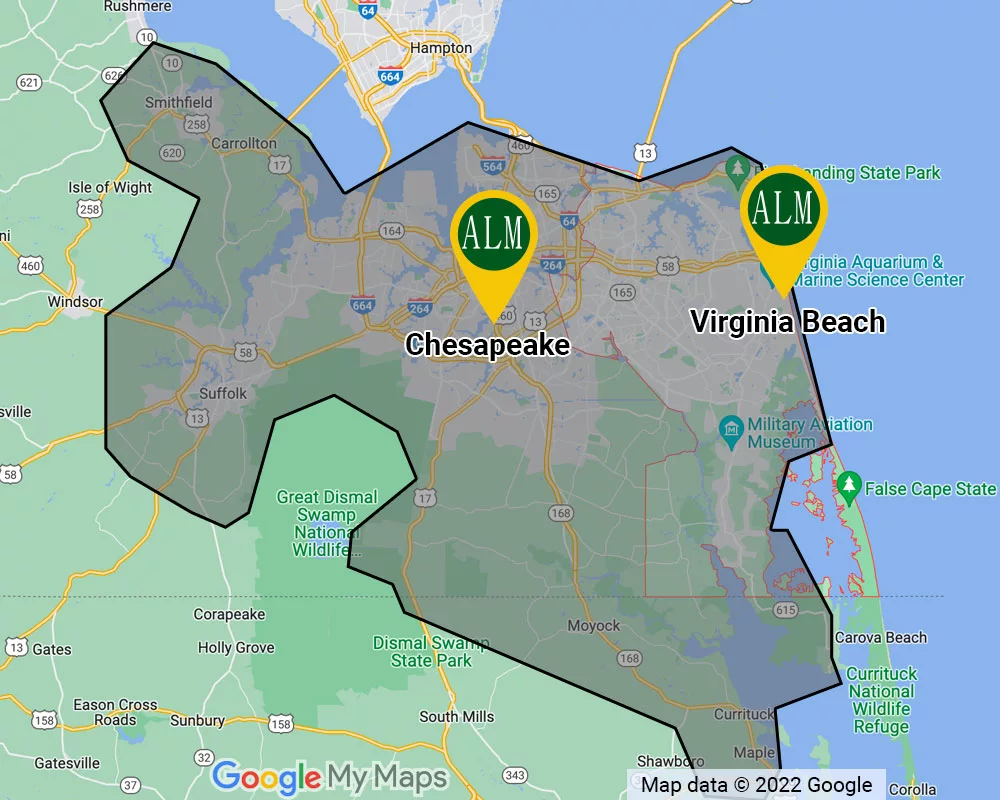 Tree and Shrub Care in Smithfield
When it comes to year-round care for a beautiful landscape, don't forget about your trees and shrubs! At Agronomic Lawn Management, we offer expert tree and shrub care in Smithfield. Here's what you can expect from our services:
Thorough inspections to identify any issues and ensure your trees and shrubs stay healthy.
Highly-effective treatments to protect against insects and diseases.
Ornamental fertilizer promotes growth and vibrant blooms.
Pre-emergent application to minimize weed growth in your beds.
Satisfaction Guarantee
With our six-cycle tree and shrub program, you can rest easy knowing your landscape is in good hands. And, if for any reason you're not satisfied with our work, we offer free re-treatments to ensure your complete satisfaction. Trust the best tree and shrub care company in Smithfield and partner with ALM for all your tree and shrub service needs!
Weed Control in Smithfield
Say goodbye to unsightly weeds in your yard and hello to a beautiful, well-manicured lawn with our expert weed removal service in Smithfield. Our lawn experts at ALM are here to help you get rid of weeds for good with our environmentally-friendly weed treatments and ongoing monitoring. Here's what you can expect with our lawn weed service:
Year-round weed control - Our seasonally-targeted applications keep your lawn weed-free all year long.
Pre-and-post emergent weed control - We prevent weeds from germinating and eliminate the weeds already in your yard.
Bed weed control - We don't just focus on your lawn - we also tackle those pesky weeds infiltrating your flower beds.
EPA-approved herbicides - Our weed treatment options are safe for your lawn, family, and pets.
Perimeter Pest Control in Smithfield
Mosquitoes, fleas, and ticks can pose serious health risks, so it's important to keep them out of your backyard. Our outdoor pest control services are designed to keep your family safe and comfortable all summer long. We have over 20 years of experience providing reliable and effective pest control in Smithfield. Our perimeter pest control is affordable, eco-friendly, and family-friendly. We offer 10 seasonal treatments between April and October, using a fogging treatment that targets pests in all stages of life. We also provide valuable knowledge about the pests in your yard, so you can prevent future infestations. Enjoy a pest-free yard and a worry-free summer with our services.
Split Seeding in Smithfield
Transform your dry, brown, and thin lawn into a lush green paradise with our expert lawn split seeding service in  Smithfield. Our certified lawn care technicians use a specialized machine known as a slit seeder to promote healthier turf and stimulate deeper nutrient release, resulting in a higher germination rate. 
Our split seeding in Smithfield includes: 
Promotes healthier turf by allowing for deeper nutrient release into the soil.
Increase in seed-to-soil contact for quick and long-lasting results.
Quality, top-of-the-line products used for maximum effectiveness.
Knowledgable Technicians You Can Trust
At ALM, we are lawn care experts. Our technicians are licensed and certified by the state of Virginia to apply pesticides and fertilizers to your lawn. We participate in continuing education courses at Virginia Tech to give you the most knowledge and experience possible. You can trust us to help your lawn grow and thrive. We are your local community neighbors, and we want to help you maintain a beautiful lawn all year long. Our lawn care management services are available in many places. Contact us to see if we service near you!