What services are you interested in? Select all that apply.
Lawn Care in Chesapeake
Every homeowner desires a gorgeous, lush lawn that they can be proud to show off. But what if your landscape simply isn't up to snuff? At ALM, we take your tried and haggard landscape and turn it into the lush lawn that you've been dreaming of without the hassle.
Image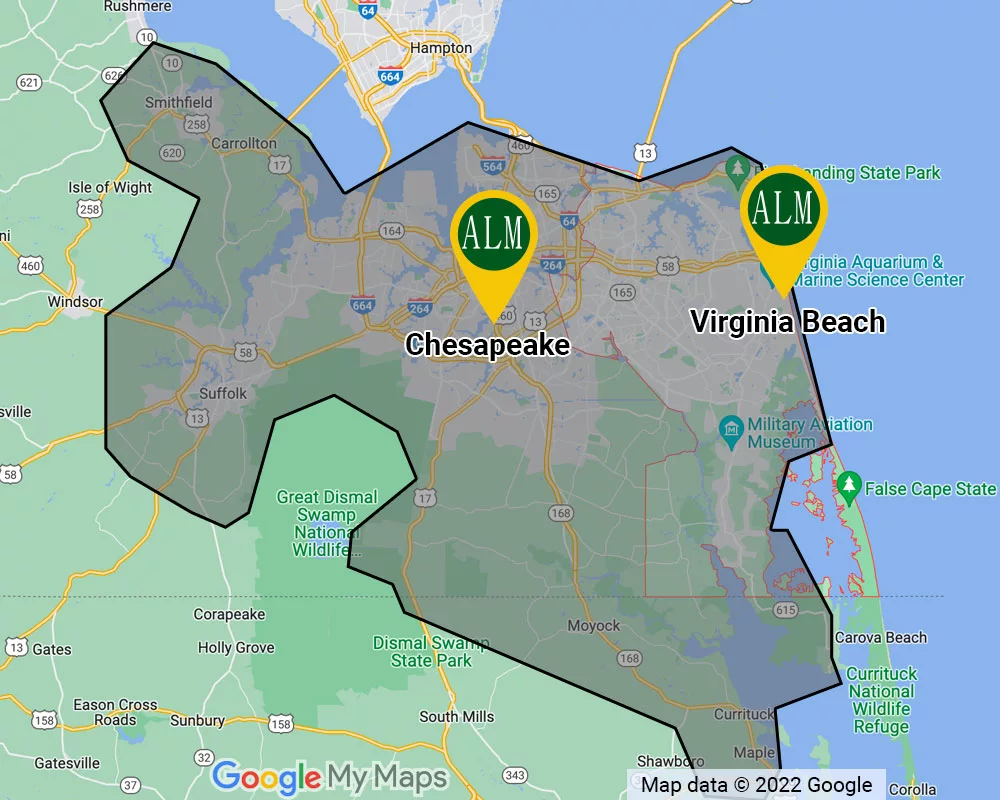 Lawn Care in Chesapeake
Let's face it: achieving the picture-perfect lawn of your dreams can turn into a full-time job—especially when you're up against the summer sun and heat! Luckily, transforming your lawn is our business. Whether you grow cool-season or warm-season grass, our team of experts are ready to tackle the toughest of yards. We provide the best lawn care in Chesapeake and surrounding areas.
Comprehensive Lawn Care Services
There are plenty of lawn care companies in Chesapeake, but none match our commitment to quality. We take pride in providing our customers with quality service from highly trained and experienced technicians, as well as superior products and personalized customer service. Our lawn care experts participate in continuous education to ensure we are up to date on the latest technologies. Our services in Chesapeake include:
Fungus and disease control
Weed control
Lime applications
Lawn fertilization
Mosquito, flea, & tick control
And much more!
Weed Control in Chesapeake
When weeds take over your property, it can give the false impression of an unhealthy lawn. Often, weeds crowd around your home, sprouting in all directions and making you feel a little boxed in. At ALM, we want to help you achieve and maintain the healthy lawn you deserve. Our lawn experts provide the most comprehensive weed control in Chesapeake to keep your lawn beautiful! 
Effective, Long-Term Weed Control
Are you tired of spending hours in the sun, pulling out stubborn weeds to little or no avail? Are you dreading watching those weeds come back again and again? Sit back and let us do the hard work for you. Our lawn experts at ALM offer post-emergent weed control to eliminate already-existing weeds and pre-emergent weed control to prevent the growth of future weeds. We're dedicated to helping you get a healthy lawn all year long.
Grub Control in Chesapeake
Grubs are cream-colored larvae that take over your lawn and eat at your grass. If these pests are left untreated, they can significantly stunt your lawn's growth. At Agronomic Lawn Management, we provide grub control in Chesapeake to help you get rid of these pests for good!
Eco-Friendly Grub Control
Our lawn care experts use eco-friendly solutions to eliminate grubs from your yard. In order to avoid using chemical-heavy lawn treatments, our experts treat larvae when they are most vulnerable. We provide you with effective, family-friendly grub control to get you the help you need without risks to the health of you, your family, and the environment. 
When you choose Agronomic Lawn Management for grub control in Chesapeake, you are guaranteed the following:
A thorough inspection of your lawn performed by one of our state-certified lawn care technicians to identify any existing problem.
Seasonally targeted grub control applications to provide your lawn with year-round protection.
The application of granular activated products around your property, which is an essential part of our participation in the Green & Clean Initiative.
Lawn Pest Control in Chesapeake
Late spring, summer, and early fall should be devoted to quality time outdoors with your children and pets. Unfortunately, with a heightened presence of summertime pests like mosquitoes, fleas, and ticks, many shelter their family indoors during beautiful spring and summer days. Instead of living in fear, turn to Agronomic Lawn Management for professional mosquito, flea, and tick control in Chesapeake. When you choose to team up with us, you'll get back to enjoying the outdoors with the peace of mind you deserve. 
Family-Friendly Outdoor Pest Control Treatments
We understand you want to fully protect your family and pets from harmful pests, and we also understand your fear of using harmful products to rid your property of mosquitoes, fleas, and ticks. That's why we offer family and eco-friendly lawn pest control solutions. Our treatments involve:
10 fogging treatment applications to ensure complete eradication of mosquitoes, fleas, and ticks.
Recurring services from April through October, so you're fully protected during the months of outdoor pest season.
Additional information about outdoor pests in your area.
Disease Control in Chesapeake
There are a lot of different issues that can damage your lawn's health and appearance, but few are as frustrating as a fungal outbreak. Lawn fungus can be a massive hindrance to your efforts to cultivate vibrant, attractive turf. Dollar spot fungus, mildew, brown patch, and countless other lawn diseases are caused by a number of environmental factors and can be a challenge to deal with on your own. That's where Agronomic Lawn Management comes in with our eco-friendly treatments for lawn disease in Chesapeake.