What services are you interested in? Select all that apply.
Lawn Care in Moyock, NC
Taking care of a lawn can be exhausting. If weeds, lawn disease, or poor weather conditions have left you worn out and your turf damaged, we want to help. With 300+ reviews and a 4.8 rating on Google you know we're a company you can trust.
Image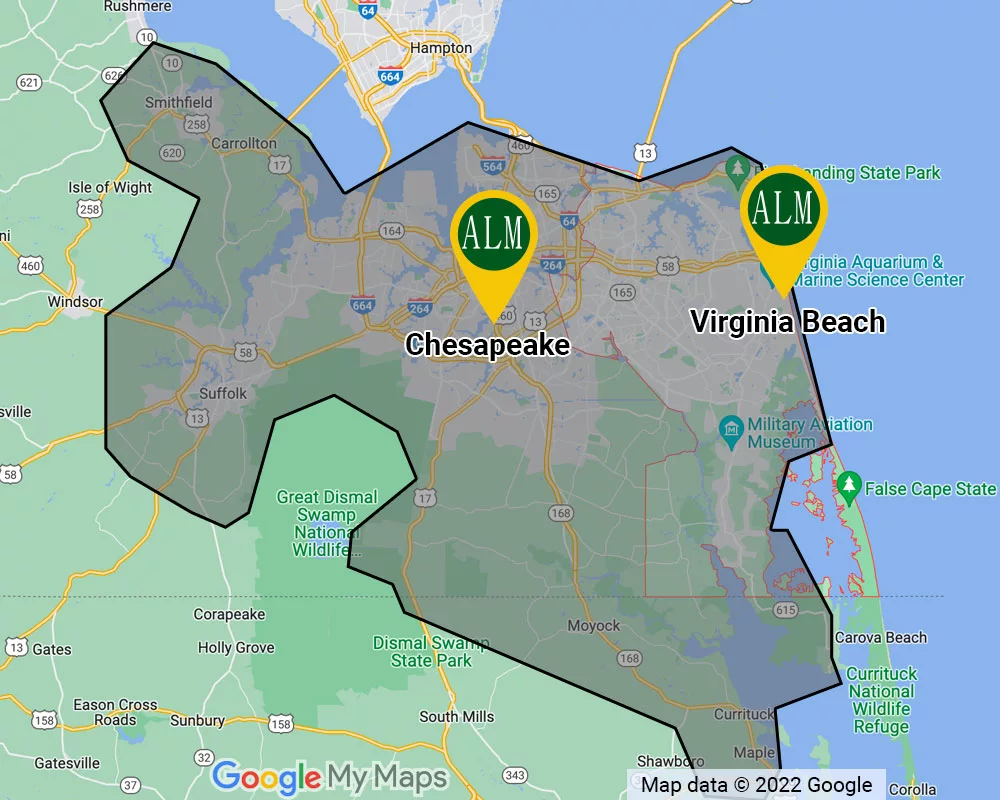 Effective and Efficient Lawn Services
Your lawn is an extremely important part of your property. A lush green lawn adds to the beauty of your home while a parched or weed-ridden turf can be a real eyesore. No matter the current state of your turf, the experts at Agronomic Lawn Management have the products and experience needed to take your lawn to the next level. With 4 different lawn care packages to choose from we guarantee that we will have your yard in tip-top shape in no time.
Partner with us today and receive the following services: 
A soil test to evaluate the health of your lawn.
A treatment plan customized to meet your needs, ranging between 6 and 14 applications throughout the year.
Pre-emergent weed control to prevent unsightly weeds from invading your turf.
Post-emergent weed control to completely eliminate any existing weeds.
Application of granular fertilizers to promote lawn growth, lime to maintain soil health and pH levels, and fungicides to prevent turf diseases.
Free re-treatments if you are not 100% satisfied with our lawn care service.
Unbeatable Service Within 48 Hours
When it comes to lawn care, efficiency matters. The sooner your lawn receives the treatment it needs, the sooner you'll get the results you want. Lucky for you, Agronomic Lawn Management guarantees service within 48 hours of your call. To have a licensed and knowledgeable technician at your home within days, all you have to do is pick up the phone. 
Weed Control in Moyock, NC
Nothing affects the appearance of a property quite like the presence of unsightly weeds in your yard. Clover, dandelion, chickweed, and crabgrass, and other common types of weeds in Virginia work to quickly turn your beautiful turf into a neighborhood eyesore. When it comes to weeds, the sooner you contact a professional lawn care company, the more time and money you will save yourself. Don't let weeds ruin the green, healthy lawn you've put so much effort into maintaining. Call Agronomic Lawn Management today for weed control in Moyock, and we'll have an expert lawn technician at your home within 48 hours!
Customized Treatments for Lasting Results
With over 20 years of experience providing lawn care, the experts at Agronomic Lawn Management know that no two lawns are the same. That's why we take the time to carefully evaluate your lawn and create a treatment plan customized to meet your specific needs. All of our customizable treatment plans include the following highly effective services:
A soil test to assess the health of your lawn
Seasonally targeted applications to ensure that your yard remains weed-free year-round.  
Post-emergent weed control designed to get rid of weeds quickly and completely. 
Pre-emergent weed control to prevent weeds from becoming a problem in the first place.
Free re-treatments if problems persist after services.
Tree and Shrub Care in Moyock, NC
Ornamentals can make or break a yard. Healthy trees and shrubs add value to your property while weed-ridden, diseased, or insect-damaged plants detract from an otherwise beautiful landscape. To keep your trees and shrubs in tip-top shape year-round, call the experts at Agronomic Lawn Management. We provide top-quality tree and shrub care in Moyock guaranteed to protect your ornamentals from insects, weeds, and disease so that your landscape looks its best all year. 
Work with the Tree & Shrub Care Professionals
When it comes to tree care in Moyock, you can trust Agronomic Lawn Management to deliver results. All of our tree care experts are professionally trained and eager to provide you with highly effective services and valuable tips and tricks for maintaining the health of your ornamentals. When you partner with us, a tree care expert will provide the following six-cycle tree and shrub care, guaranteed to protect and nurture your ornamentals:
Round 1: Horticultural Oil is applied to eliminate insect larvae and sucking insects.
Round 2: Ornamental fertilizer with pre-emergent is applied to trees and shrubs to limit crabgrass and other weeds from sprouting in your beds. 
Rounds 3, 4, and 5: Insecticides and fungicides are applied to ensure protection from a wide variety of insects and diseases.
Round 6: Ornamental fertilizer is applied to promote growth and increase blooms the following spring.
Grub Control in Moyock, NC
Are patches of dying grass starting to appear in your yard? If so, it might be time to look below the surface of your turf to what's hiding underneath. A very likely cause of those brown patches of grass is that you have grubs in your yard. During late summer, grubs thrive a few inches beneath the soil, searching for food and destroying grassroots in the process. The best way to prevent grubs from destroying your turf is to take care of the problem as soon as you suspect it by calling a top-quality lawn care company like ALM. Call us today for grub control in Moyock, and we'll have a licensed technician at your home within 48 hours. 
Get Rid of Grubs with Eco-Friendly Treatment
When it comes to grubs, the good news is that it takes a huge population to cause any major damage to your turf. The sooner you schedule treatment, the less damage your lawn will suffer and the more efficient removal will be. At ALM, we're all about tailoring treatments to meet the needs of each individual property. No matter how extreme your grub infestation is, we guarantee our services will eliminate them and restore the health of your lawn.
Lawn Pest Control in Moyock, NC
Mosquitos, fleas, and ticks may not look as intimidating as bees or wasps, but anyone with an infestation knows how harmful these pests can be. With their itchy bites and harmful diseases, these pests can ruin outdoor fun for your family and your friends. The good news is that with Agronomic Lawn Management right around the corner, you can get rid of mosquitoes, fleas, and ticks with a single phone call. Contact ALM today for unbeatable lawn pest control in Moyock, and put an end to your fight with these outdoor pests. 
Guaranteed Relief from Outdoor Pests
As a locally owned and operated lawn care company, ALM truly cares about the people we serve. We aim to provide our customers with only the highest quality services, and when it comes to outdoor pest control, we are confident that our 10-application fogging treatment program is the best of the best. Here is how our services work:
After you choose to add outdoor pest control to your lawn care program, we will schedule an initial inspection in order to gather information about your pest population.
From April through October, we will apply 10 family-friendly treatments with a fogging system.
Additional knowledge about the types of pests that live in your area.
If you are not completely satisfied with our mosquito treatment, we will re-treat your yard at no additional cost.
Disease Control in Moyock, NC
When it comes to lawn disease, you know it when you see it. Whether patches of your grass have begun to brown and die or yellow spots are beginning to appear, it's easy to tell when fungi has taken over. There is a plus side to lawn disease: it makes it easy to know when to contact a reputable lawn care company like Agronomic Lawn Management. For exceptional treatment of lawn disease in Moyock, guaranteed to stop fungi in its tracks, give us a call today!
Fungicide Treatments that Eliminate AND Prevent Disease
At Agronomic Lawn Management, we provide guaranteed protection against all of the common types of lawn fungi in Virginia including: 
Brown spot
Summer patch
Spring dead spot disease
Dollar spot
Mildew