Image

Highly Rated Tree & Shrub Care in Virginia
Service From Your Neighbors
Fast and Friendly Treatments
Year-Round Care for a Beautiful Landscape
When it comes to caring for your home's outdoor environment during the cooler months, shrub and tree care in Virginia is just as important as lawn care. A healthy and beautiful landscape is an investment that adds value to your property. Whether you live in Chesapeake, Virginia Beach, or one of the surrounding areas, our qualified tree care experts will ensure your trees and shrubs are protected and healthy so you can enjoy your landscape in every season.
About this Service
At Agronomic Lawn Management, we've built our reputation on our commitment to our customers. We don't just treat your lawn and landscape — we take the time the educate you on the condition, the cause, and the best treatment plan to suit your needs. Our professionally trained tree care experts follow a six-round treatment plan to keep your entire landscape healthy by controlling insects and diseases throughout the year. Let us protect your trees and shrubs from insects and diseases! 
Contact us today to get started!
Six-Cycle Treatment for Healthy Trees & Shrubs
We offer a tree and shrub program that will ensure your ornamentals are healthy and taken care of in every season. Our six-cycle tree and shrub program includes:
Round 1: Horticultural Oil is applied to effectively suffocate overwintering insect larvae and sucking insects.
Round 2: Ornamental fertilizer with pre-emergent is applied to trees and shrubs. The pre-emergent minimizes crabgrass and other weeds from growing in your beds.
Rounds 3, 4, and 5: Insecticides and fungicides are applied to protect plants from insects and diseases.
Round 6: Ornamental fertilizer is applied to promote growth and vibrant blooms the following spring.
We also offer lawn care services to ensure your trees and shrubs are accompanied by beautiful green grass!
Free Re-Treatments for Guaranteed Satisfaction
Our thoroughly-trained lawn experts always do their best work, but what happens when Mother Nature takes her toll on your lawn and you need a spruce up? If you are not happy with your lawn, you can take advantage of our 100% satisfaction guarantee. We will be happy to return to your home and re-treat your ornamentals in-between visits. When you partner with ALM, you have the ultimate peace of mind knowing your yard is being taken care of by the best tree and shrub care company in Virginia!
Experience the ALM Difference within 48 Hours
When you choose Agronomic Lawn Management for your lawn and landscape needs, you can trust you're in good hands. When you call our local office, we will have a knowledgeable and licensed tree care expert at your home within 48 hours of your phone call. We are committed to quality customer service and provide continuing education for our tree care technicians so they can serve you better. Here at Agronomic Lawn Management, we'll treat your lawn and landscape as if it were our own. We always strive to provide the best shrub and tree service in Virginia to give you the best results possible!
What's included in this service
Image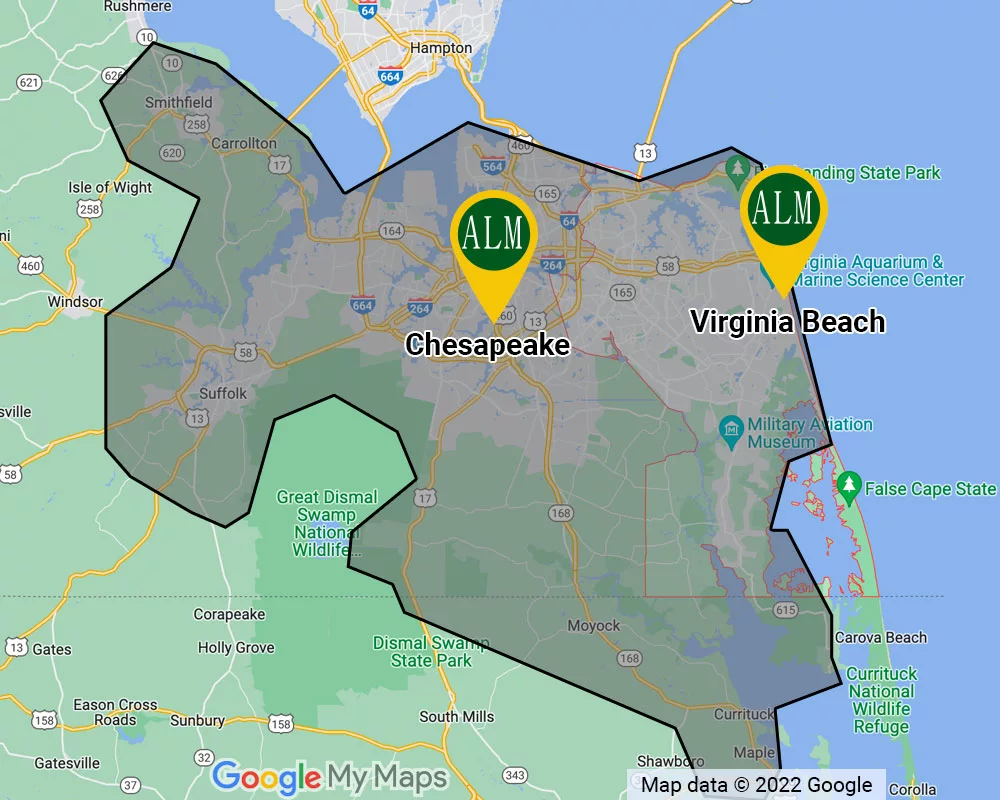 Local Lawn Care Experts
Areas We Service in Virginia
Agronomic Lawn Management has been proudly creating beautiful lawns since 1998.  We provide exceptional lawn care in Virginia in a manner that is effective and environmentally responsible. We are proud to provide our services to these areas: