What services are you interested in? Select all that apply.
Lawn Care in Carrollton
At Agronomic Lawn Management, we understand the toll that the local climate can take on lawns in Carrollton, VA. Our experienced team has been providing top-quality local lawn care services for over 20 years, so you can trust us to get the job done right. 
Achieve the Perfect Lawn with Our Lawn Care Services in Carrollton
At our lawn care company, we believe that your yard deserves the best possible care. That's why we offer comprehensive lawn care services in Carrollton and surrounding areas to keep your lawn healthy and green throughout the year.
Our team of experts provides a range of lawn care services, including:
Fungus and disease control to prevent the spread of disease and promote healthy growth.
Weed control to eliminate invasive weeds and maintain a beautiful lawn.
Lime applications to balance soil pH levels and promote nutrient absorption.
Lawn fertilization gives your lawn the nutrients it needs to look its best.
Mosquito, flea, & tick control to keep your yard safe for your family and pets.
Image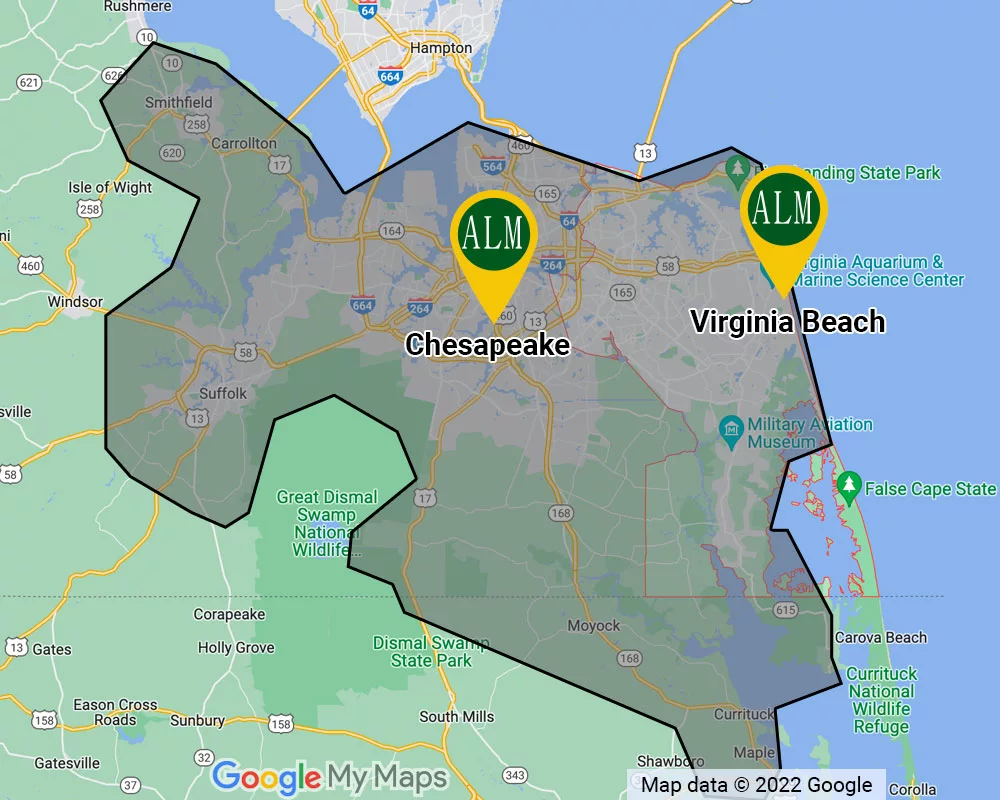 Inspections for a Lawn That Is Stress-Free and Lush
At our lawn care company, we believe that a healthy lawn begins with regular inspections. Our team of experts will conduct a thorough inspection of your lawn, identifying any issues that may be preventing your lawn from looking its best. By diagnosing and addressing these issues early, we can help prevent larger, more costly problems from developing. Trust our lawn care experts to keep your lawn stress-free and lush all year round.
Seeding in Carrollton
At ALM, we are dedicated to providing exceptional lawn care services to our clients. Our lawn seeding service is designed to promote healthier turf, increase seed-to-soil contact, and enhance the overall appearance of your lawn. Our certified lawn care technicians will assess your lawn's specific needs and create a custom aeration plan to ensure optimal results. Don't let soil compaction prevent your lawn from reaching its fullest potential. Let ALM's lawn aeration service unlock the natural beauty of your lawn!
Weed Control in Carrollton
Tired of unsightly weeds damaging your lawn's curb appeal? Agronomic Lawn Management's weed removal service in Carrollton have you covered! Our lawn experts provide quality weed control services to get rid of weeds and prevent them from germinating, leaving your yard looking its best all year long.
Our weed control services in Carrollton include:
Environmentally-friendly weed treatments using EPA-approved herbicides.
Year-round weed control with seasonally targeted applications.
Ongoing monitoring to ensure a weed-free lawn.
And more!
Say Goodbye to Weeds For Good
We offer pre-and-post emergent treatments to tackle weed growth at every stage and know that bed weed control is crucial for a healthy and weed-free lawn. Our lawn experts provide a pre-service soil test to assess the health of your lawn and develop a customized plan of action for your specific needs.
Tree and Shrub Care in Carrollton
At ALM, we are committed to providing top-notch shrub treatment and maintenance services, so you can enjoy a healthy and beautiful landscape all year long. Our highly effective tree and shrub service ensures your landscape is well cared for throughout the year. Here's what we offer:
Thorough tree and shrub inspection to identify any issues.
Six-cycle treatment plan to control insects and diseases.
Ornamental fertilizer to promote growth and vibrant blooms.
Pre-emergent application to minimize weed growth.
Free re-treatments for guaranteed satisfaction.
Perimeter Pest Control in Carrollton
Don't let pesky bugs ruin your outdoor fun with your family and pets! Agronomic Lawn Management offers professional mosquito, flea, and tick control in Carrollton. Our treatments are safe for your loved ones and the environment. We provide 10 fogging treatments to ensure the complete eradication of pests, with recurring services from April through October. Plus, we offer additional information about outdoor pests in your area. Choose us for peace of mind and enjoy outdoor time!